Durga Puja is one such gift which is celebrate all over India. In the most grand way in West Bengal. Durga Puja is consider to be one of the biggest worship in Hindu religion. It is celebrate for 10 days, from the sixth day to the ninth day. The pandals containing the grand idols of Goddess Durga are open for the visitors. In India, you can experience the Famous Durga Puja in Kolkata.
Dashami is the day of immersion, which is consider under very good procession and celebrations. Durga Puja 2022 is starting from 25th September and its last day or Dussehra is on 5th October.
Click to Visit: 
Famous Durga Puja in Kolkata
Durga Puja Dates 2022: Schedule
| DATE | FESTIVAL |
| --- | --- |
| 25th September 2022 | Mahalaya |
| 1st October 2022 | Shashthi |
| 2nd October 2022 | Saptami |
| 3rd October 2022 | Ashtami |
| 4th October 2022 | Navami |
| 5th October 2022 | Dashami |
What is Durga Puja Festival?
According to Hindu mythology, Goddess Durga appeared as an embodiment of Shakti or divine feminine power. From the collective energy of all the deities (devas), to destroy the demon Mahishasura. One who was blessed not to be defeated by any human or deity.
This powerful form of the Mother Goddess is highly revered in Kolkata. Which is why her return is celebrated with great grandeur and celebrations.
If you are planning to visit Kolkata during Durga Puja, then these are the popular highlights of the grand celebrations. That you will not miss to see.
A week before the festival, the city gets ready and can be visited with eagerness and enthusiasm. As it prepares itself to welcome the goddess into the house.
Related Article: Unique Tourist Places To Visit In Kolkata and Nearby Area
Rituals of Durga Puja
Mahalaya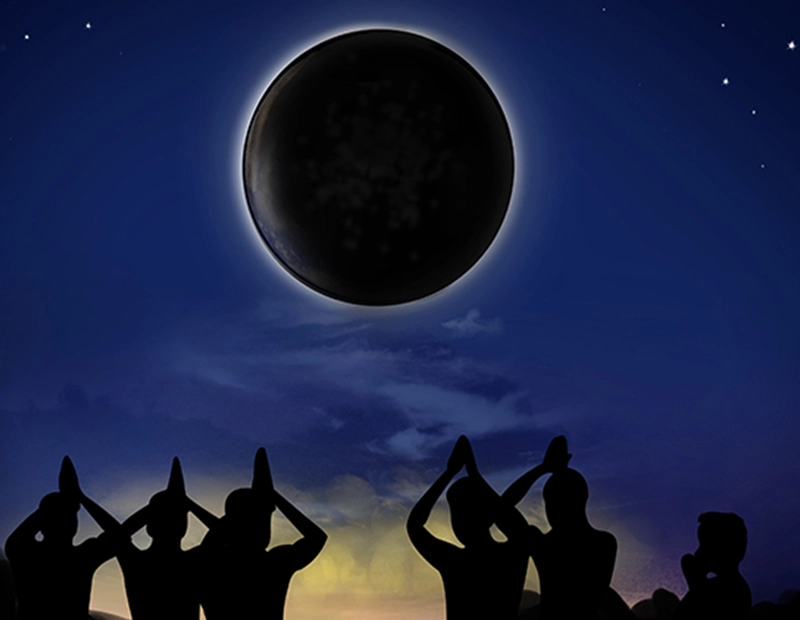 Mahalaya marks the beginning of the 'Devi Paksha' and the end of the 'Pitru-Paksha'.
Goddess Durga comes to earth for only four days but Mahalaya starts seven days before the puja.
This day has special significance for Bengalis. According to the Puranas, King Suratha used to worship Goddess Durga in the spring. Thus Durga Puja is also call as Basanti Puja.
Mahalaya is celebrate on the new moon day in the Hindu month of Ashwin (September-October).
Mahalaya 2022 date is Wednesday 25th September.
Timings are from 3:10 AM on 25th September to 3:25 AM on 26th September.
Mahalaya Full Audio
Chokku Daan – The Day When Eyes of Goddess Durga are Paint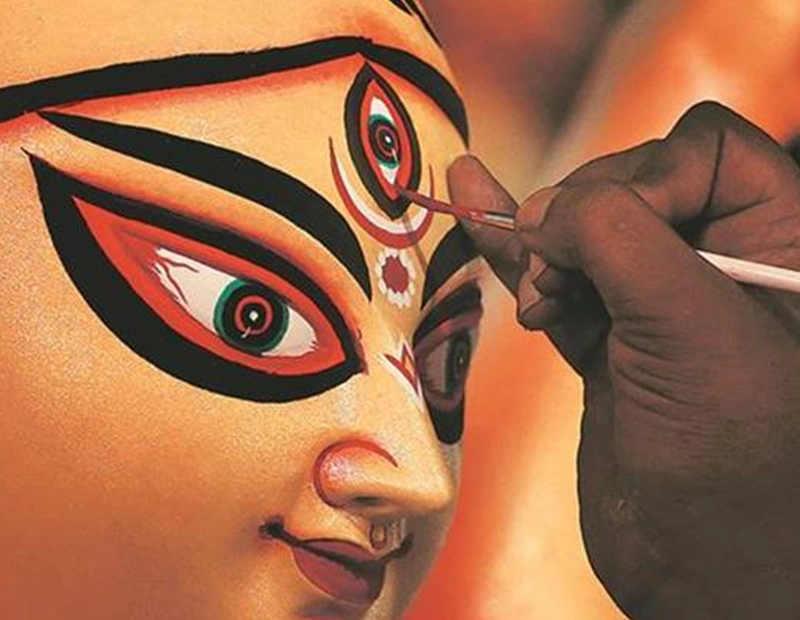 You get to see the unique rituals of Durga Puja in Kolkata. A week before the start of Navratri; The idols of Maa Durga are being prepare by coloring except the eyes.
On the occasion of Mahalaya, the Goddess is inviting to the earth. With rituals and hence on this day, an auspicious ritual called Chokku Daan.
The sixth day of Navratri i.e. the first day of Durga Puja in Kolkata. That beautifully decorate idols are brought home or place in the form of lavishly decorate public pandals.
The idol is then decorate with flowers, clothes, jewelry, red vermilion and various sweets are placing in front of the goddess.
Navratri Day 6 rituals are dedicate to Goddess Katyayani. People worship Goddess Katyayani to remove fear, mental health and stress.
According to myths, Maa Katyayani is the violent form of Maa Durga. Which is creating by the gods to destroy the demon Mahishasura.
Maha Saptami – Kola Bow or Nabapatrika
Early in the morning on Mahasaptami; A small banana plant call for Kola Bou is taken to bathe in the river and dressing in a red sari and taken back in a procession. That to be place near the idol of the goddess. This is followed by ritualistic prayer and worship, which will take place on all remaining days of the festival.
Many cultural activities also take place as part of the celebrations. People come together to dance, sing, perform plays and perform traditional performances.
Maha Ashtami
Eight days of Navratri are consider very special. 9 girls are worshipping on the day of Maha Ashtami.
Every devotee observes a fast on this day. You will see the importance of Maha Ashtami more in Odisha, West Bengal, Manipur and Tripura.
On this day 9 powers of Durga Maa are invoked in the pandals.
Maa Gauri, the eighth form of Maa Durga, is worshiped on the eighth day of Navratri.
On this day, after worshiping Maa Gauri, 9 girls and 1 boy are called to the house. And all of them are worshipped. And as their bhog, pudding (halwa), puri and gram(channe) are given. At the same time, some people bid farewell to the child by giving gifts.
Especially this day is very special for Bengali people. On this day, everyone unites and showers flowers on Maa Durga. This view is very unique.
According to the belief, 9 forms of Maa Durga are worshiped for ninth day of Navratri.
Worshiping Maa Durga on this day fulfills all the wishes of the devotees. And brings happiness and prosperity in the house.
Vijaya Dashami – The Last Day of the Durga Puja
After three days of worship, the goddess is given a tearful farewell on the last day of Dashami.
Devotees in large numbers gather to join the procession that is taken to the ghat to immerse the goddess in water.
Women, especially married women, first start atrocities on the goddess. Which is by applying red vermilion or vermilion powder and then on each other. It is said to be a symbol of marriage and fertility.
Durga Puja Pandals & Decorations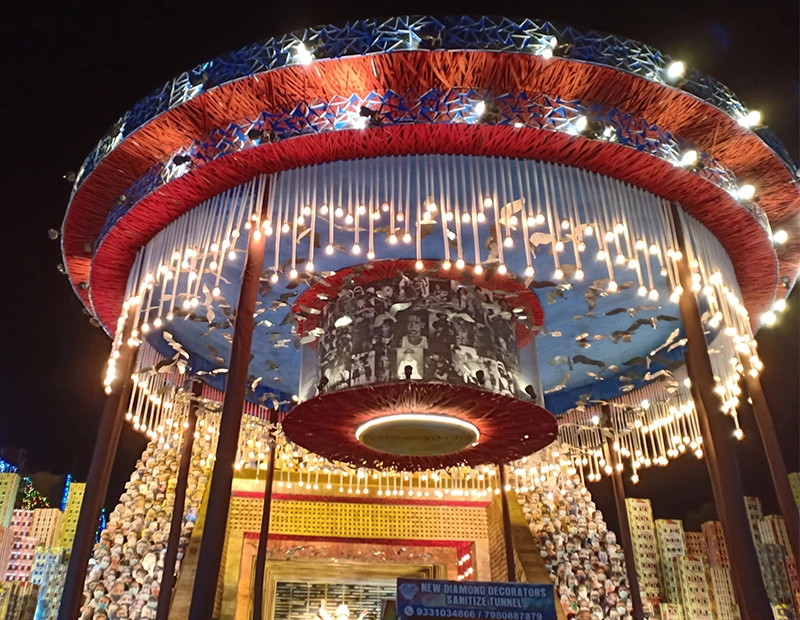 Each lavishly decorated pandal emphasizes a theme; Be it legends of Goddess Durga or scenes from Hindu epic texts.
Nowadays, Kolkata durga puja pandals are based on social causes to spread awareness. This year you will probably get to see many themes to tackle the corona virus.
20 Best Pandals of Famous Durga Puja in Kolkata
Here is the best North and South Kolkata Durga Puja list.
1. Sreebhumi Durga Puja Pandal
2. Singhi Park
3. Chaltabagan
4. Jodhpur Park
5. Bagbazar Puja Pandal
6. Bhowanipore Abasar
7. Bandhu Mahal Club in Baguiati
8. Santosh Mitra Square Pandal
9. Pally Mangal Samity, Taltala Ground
10. Ekdalia Evergreen Pandal
11. Badamtala Ashar Sangha
12. Dum Dum Park Tarun Sangha
13. Deshpriya Park
14. 66 Pally
15. Hindustan Park Pandal
16. Mohammad Ali Park Pandal
17. Beliaghata 33 Pally
18. Kumartuli Park Pandal
19. Suruchi Sangha Puja Pandal
20. Sikdar Bagan Sadharan Durga Puja
This list is the single best one. But instead of these pandals you can find a lot of famous and creative Kolkata Durga Puja pandals. And if you go to more places then you will get to see more than one Durga Puja pandal.
15 Bengali dishes you need to taste this festive season
Luchi
Alur Torkari
Mutton Biryani
Ilish Macher Jhol
Malpua
Sandesh
Tangra Macher Jhol
Shukto
Phuchka
Aloo Potol Posto
Keema Muttor
Ghugni
Doi Fulkopi
Mishti Doi
Mangsher Singara
Best Mode of Transportation in Kolkata Durga Puja
Kolkata is one of the few cities where you can enjoy a wide variety of transport modes from boats, trains and buses to trams. The state is bringing their fleet including double deckers for Durga Puja.
Metro
At the time of Durga Puja in Kolkata, there is a slight change in the timing of the metro.
Metro operates on 2 routes in Kolkata. One north-south; Dakshineswar to Kavi Subhash and the second is east-west; Salt Lake Sector V to Phoolbagan.
Information: Metro Time, Fare, Station
Local Train
Local train is preferable during Durga puja. Access to local train in Kolkata is very good. Most of the people prefer this transportation mode.
Every train departs from Sealdah Railway Station which is in the city center of Kolkata. From where you will get access to the north and south of Kolkata.
Tram
Busses
Boat
Auto Rickshaw
Toto Rickshaw
Note: This time ticket prices can change for Durga Puja, please confirm the ticket price once before roaming.