Want to visit Delhi for the first time, but you are not getting a good guide who can take you to a good place. Don't be confused by what you will see. The long list of tourist attractions in Delhi often gives nightmares to most established travel planners. Local Tourism show you best places to visit in Delhi.
just chill! Choose from our list of famous Delhi tourist places in various categories. From monuments and temples to parks and museums, Delhi has so much to offer that it will not stop entertaining you. Get reedy and leave immediately to be mesmerized by the beautiful city!
There are many attractions and places that showcase the rule of many years and which are now major heritage sites.
From tombs to forts to old towns and markets, Delhi has everything.
We've also added some more information with each listing to give you more information.
Click to Visit: 
Best places to visit in Delhi
Follow Corona guideline. Wearing a mask. Maintain social distancing.
Are you excited to visit best places in Delhi?
Here's a complete mini-guide with all the details about the places you just can't miss on your trip.
Take a look at these best Delhi tourist places to know as you select the best additional tourist places to visit in the capital city!
Red Fort
India Gate
Rashtrapati Bhawan
Qutub Minar
Humayun's Tomb
Akshardham Temple
Jantar Mantar
ISKCON Temple
Lotus Temple
Jama Masjid
1. Red Fort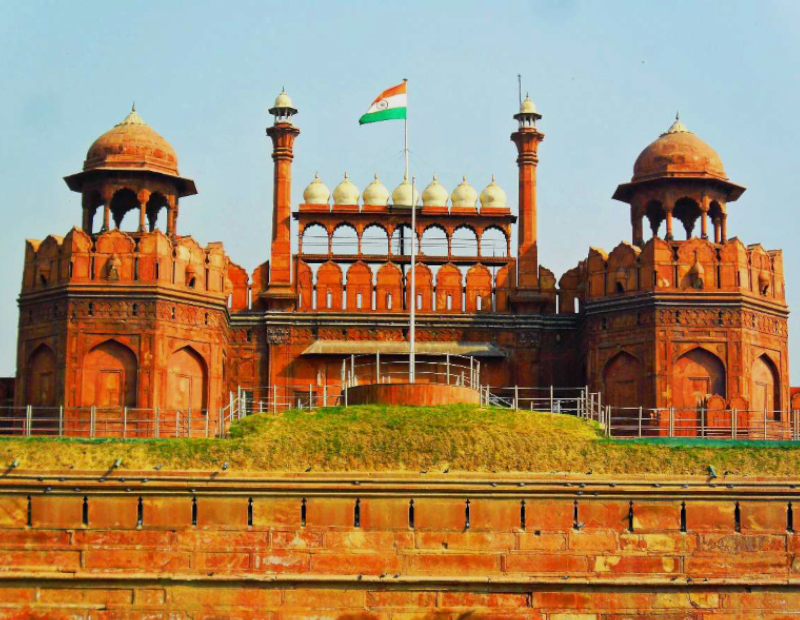 The Red Fort is a major tourist attraction in Delhi. Built in 1638, it is an outstanding marvel of Mughal architecture made of red sandstone and is one of the famous tourist places in Delhi.
If you are interested in the history of Red Fort, you will be thrilled to know that the fort was built by the Mughal Emperor Shah Jahan when he shifted his capital to Delhi.
In 2007, this fort has been declared a UNESCO World Heritage Site. It is one of the most famous places in Delhi.
Fastest Route: New Delhi Railway station to Red Fort
2. India Gate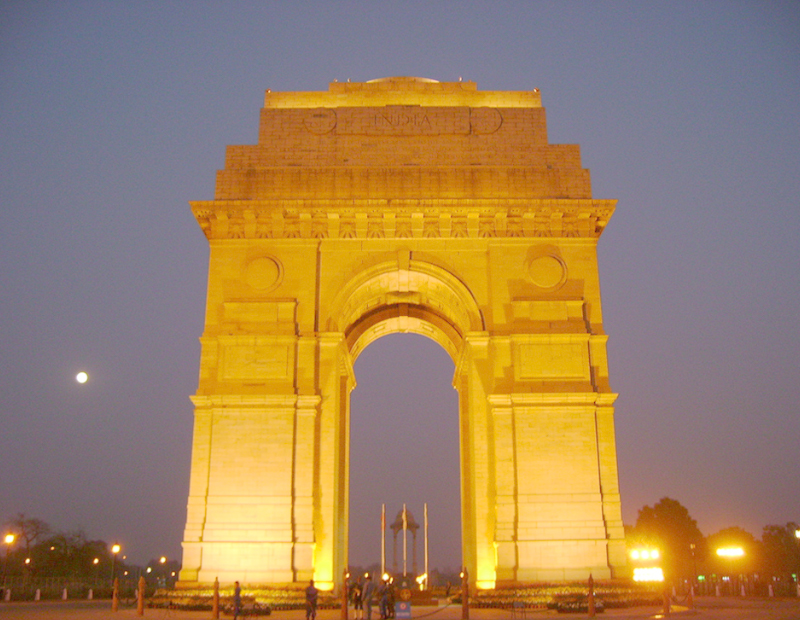 India Gate is a monument that defines Delhi or India for that matter. It was built in 1931 as a memorial to the martyrs of World War I and the war in Afghanistan.
The structure looks amazing in the evening light on Rajpath.
The gardens that outline the structure are a must-see among the sightseeing places in Delhi. It is one of the popular tourist places to visit in Delhi at night.
If you are in Delhi on Republic Day, then you must visit the India Gate Parade which is indeed one of the prestigious and most formal events of India. A lot of international guests and national leaders are present on the occasion and pay homage to the freedom fighters and great leaders of the country.
Fastest Route: New Delhi Railway Station to India Gate
3. Rashtrapati Bhawan
Opposite the Rajpath is the residence of the President of India and is one of the famous tourist places to visit in Delhi at night.
This grand architectural building is the largest residence of any head of state around the world.
The central dome of the building is the perfect amalgamation of Indian and British architectural styles.
A little beyond the monument you will get an idea of ​​how grand the monument is.
Fastest Route: New Delhi Railway Station to Rashtrapati Bhawan
4. Qutub Minar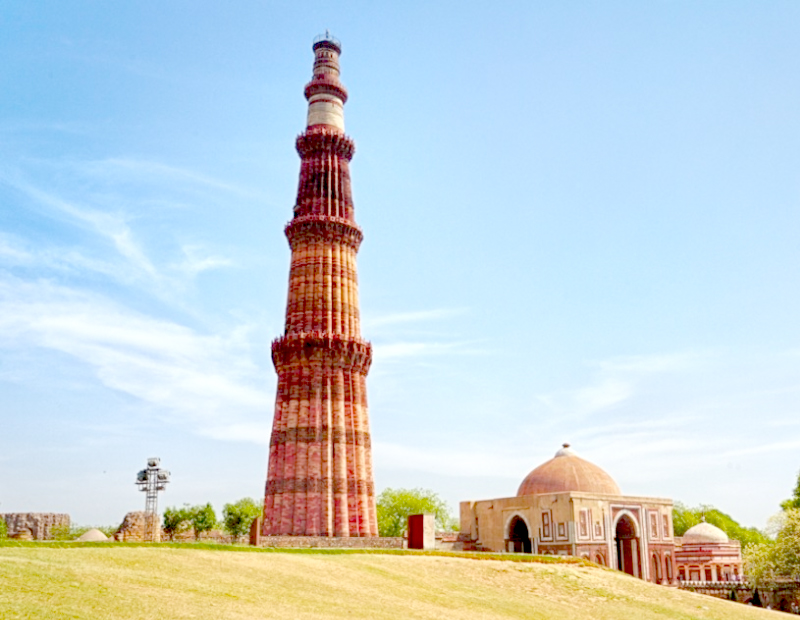 Among other places to visit in Delhi, Qutub Minar stands tall with its 73 meters high brick minaret.
Qutub Minar is part of the Qutub complex and has been declared a UNESCO World Heritage Site.
This red stone tower is a heritage site of India which is a wonderful example of beautiful Iranian architecture with Parso-Arabic and Nagari details.
It is one of the most popular tourist places to visit in Delhi.
Fastest Route: New Delhi Railway station to Qutub Minar
5. Humayun's Tomb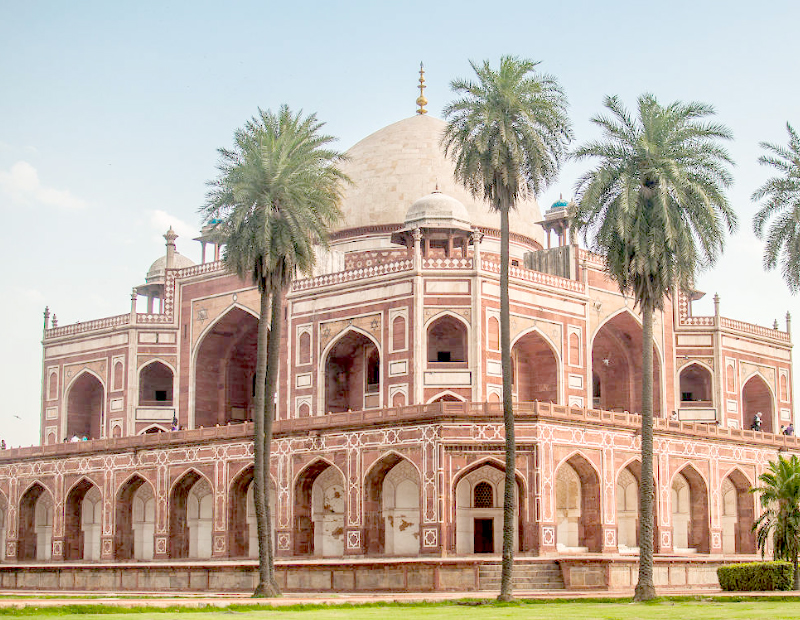 Among the best places to visit in Delhi, and a World Heritage Site under UNESCO, Humayun's Tomb. It was built in 1570 by Humayun's wife Haji Begum.
It is undoubtedly one of the most stunning works of Mughal architecture, to which the Taj Mahal owes its design.
Not only the tomb of the Mughal Emperor Humayun, but this tomb also secures the tombs of Bega Begum, Dara Shikoh, Hamida Begum along with other important members of the Mughals.
The tomb is made of red sandstone and white stones and even after so many years it looks serene and beautiful.
Fastest Route: New Delhi Railway station to Humayun's Tomb
6. Akshardham Temple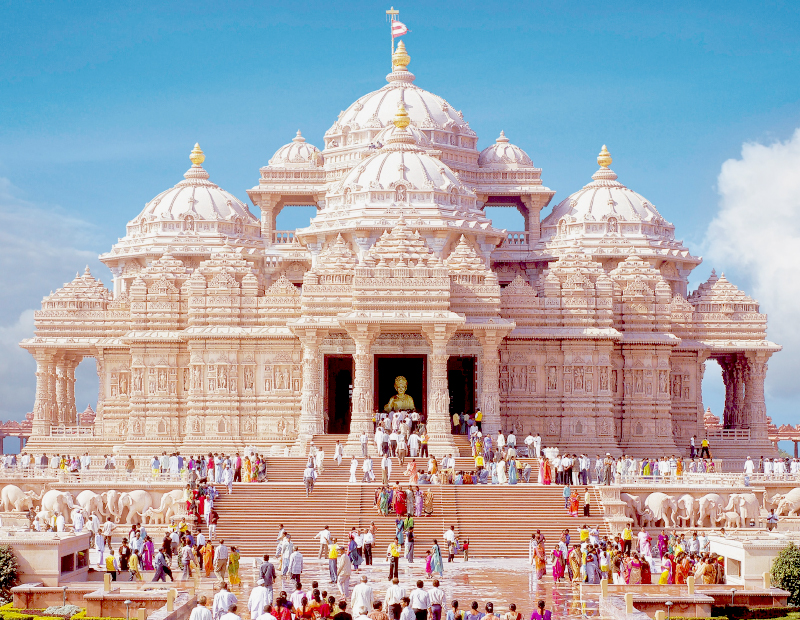 Swaminarayan Akshardham – One of the largest Hindu temples in the world. Built by BAPS Spiritual Organization, it is a stunning architectural work made of pink stone and white marble.
It is situated on the banks of river Yamuna, this tourist place in Delhi has many exhibitions for the tourists.
There are Abhishek Mandap, Sanskriti Darshan, Sahajanand Darshan and Neelkanth Darshan where you can enjoy a cultural boat ride.
The themed garden is indeed an exciting place to visit here.
It is one of the beautiful tourist places in Delhi at night for those who wish to witness the light show.
7. Jantar Mantar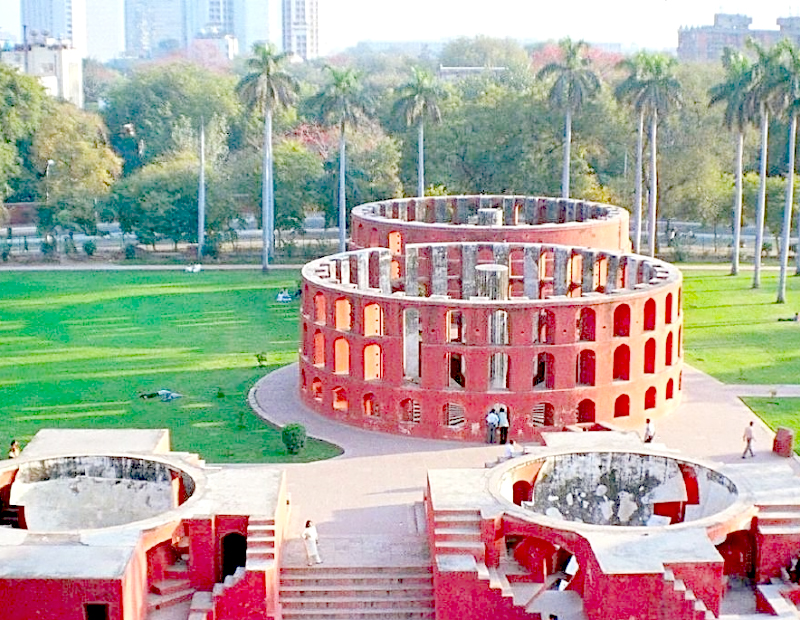 Jantar Mantar is an astronomical observatory and is one of the fascinating tourist places to visit in Delhi.
The main instruments of the observatory are Samrat Yantra, Jai Prakash, Ram Yantra and Mishra Yantra.
There is also a temple of Bhairav ​​near the building.
8. ISKCON Temple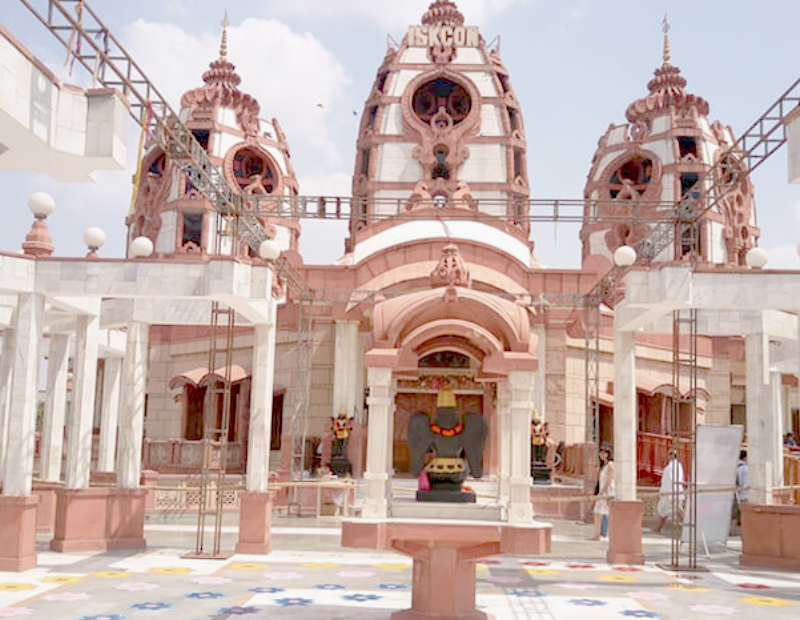 ISKCON is a spiritual organization established in 1966 by his divine grace AC Bhaktivedanta Swami Prabhupada. You can see the beautiful visual representation of Bhagavad Gita with colorful lights which create an amazing effect on the huge screen.
There are many museums inside the temple where you can see extraordinary exhibits. In addition, they organize multimedia shows for the visitors.
The best time to visit the ISKCON temple is during the festival of 'Janmashtami', the birthday of Lord Krishna.
9. Lotus Temple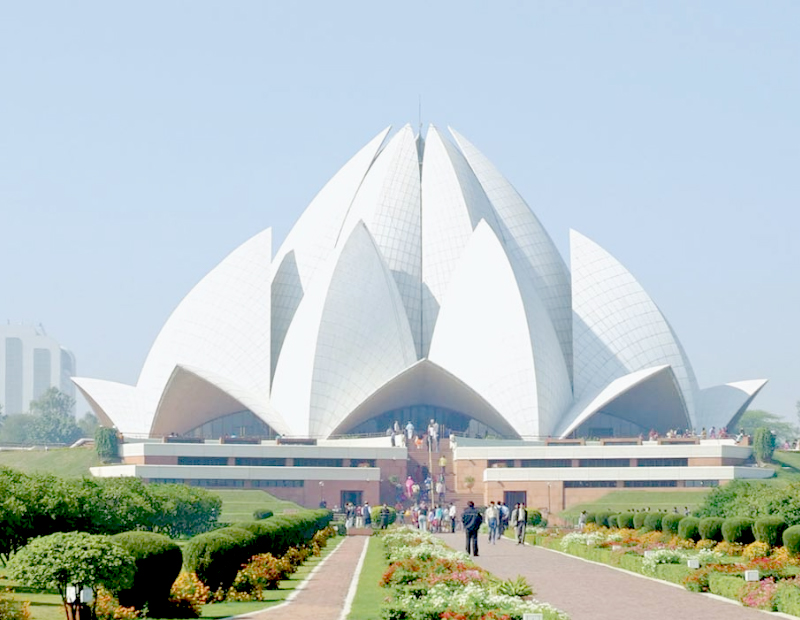 Popularly known as the Lotus Temple in the list of famous tourist places in Delhi, the lotus in the Bahaí Temple is a symbol of four religions namely Hinduism, Jainism, Buddhism and Islam.
The temple belongs to the Bahá'í religion which proclaims that all people and religions are one.
Worshipers of all religions are welcome here.
You will find nine doors of this temple which allows 2500 visitors at the same time.
For its mesmerizing architecture, this building has received many awards and accolades.
10. Jama Masjid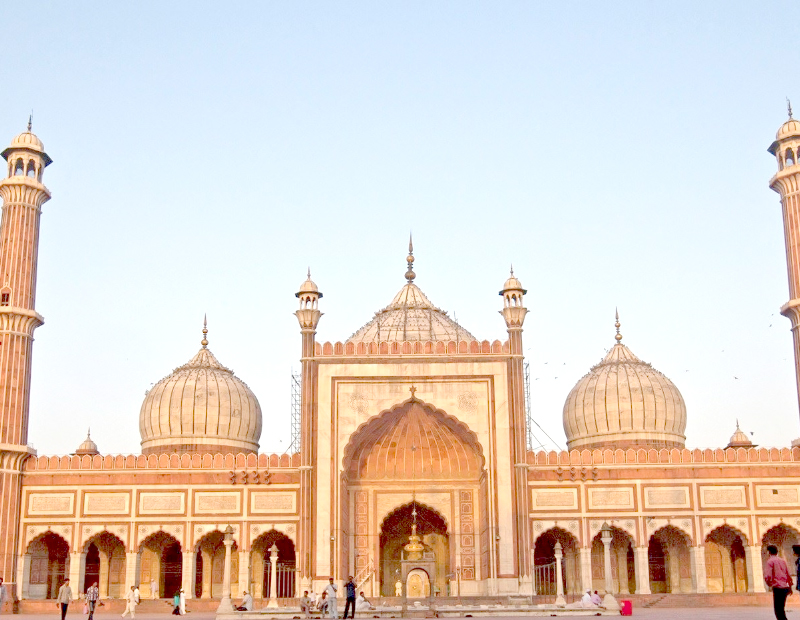 Among other tourist attractions of Delhi, the largest mosque in India is Jama Masjid. It can seat 25000 devotees at a time. It was the first architectural marvel of Shah Jahan.
The mosque has four minarets and the southern minaret offers a spectacular view of the city.
Best time to tour Delhi
The best time to visit Delhi is from October to March when the weather is pleasant and ideal for sightseeing, making it the perfect time to experience Delhi at its best.
Because, summers are very hot and dry while spring and winters are pleasant and extremely cold.
Best Article for Family Trip: Best 20+ Delightful Places To Visit In Winter In India With Family
Local Tourism says about Delhi Tourism
Delhi is a cosmopolitan city with a historic Old Delhi and a modern New Delhi. Being the capital of India, apart from the tourists of the country, people from abroad also come here to visit.
Delhi tourism sector has worked very fast in last 2 decades, for this reason, there are some very good tourist places in front of you.
Delhi is a very cool place to visit. So, Local Tourism invites you to visit Delhi.